It's up to designers, builders and contractors to blend the basics of stair construction with the complexities to ensure the end result is safe and compliant. For those readers who are more 'visual' learners, then this article by Jerry Tyrrell is for you.
You've long heard me say that I believe the Australian Building Codes Board (ABCB) is not doing enough to help simplify and make their products more accessible and cheaper.
What is worse – many contractors and professionals never get to apply the precious information the National Construction Code (NCC) contains because they could not find or understand what they say. How much better would our industry be if your innate common sense and practical smarts were underpinned by the technical information in the NCC and Australian Standards?
Instead of writing it all down, I want you to see how the ABCB explains how to build a typical part of a building, with help from their accomplices at Standards Australia as well as federal and state governments.
I've chosen stairs as the theme for this article because most buildings contain them. Stairs involve a pretty good mix of basic rules and complex ingredients that designers, builders and contractors have to understand and blend.
The table below explains the documents the NCC (Building Code of Australia) gives us to build compliant stairs in homes. I have indicated how a simpler 'Jerry's Solution' can overcome some of the problems associated with the structure and presentation of the information currently presented in the ABCB and Australian Standards.
You can make up your own mind as to what is easier to understand… although the answer should be 'stairing' you in the face (pardon the pun).
| | | | |
| --- | --- | --- | --- |
| Table 1: explaining stair requirements | | | |
| NCC's Solution | | Jerry's Solution | |
| NCC Vol 1 | 10 pages | Rules | 1 page |
| NCC Vol 2 | 18 pages | Diagrams to clarify Rules | 2 pages |
| AS 1428 | 111 pages | | |
| AS 1657 | 64 pages | | |
| Total: | 203 pages | Total: | 3 pages |
The confusion doesn't end with these long documents and their information all over place.
Just look at the absence of inconsistent terms between all the publications – Volume 2 uses the title, 'Stair Construction' and Volume 1 hides what you want to find under Section D 'Access and Egress'… what does 'egress' mean? What does 'slope relationship' mean?
Then you have to read AS 1428.1 Design for Access and Mobility to make sure you don't use stairs where a ramp is required. After that you should be aware of the Standards covered by the Premises Code (yep, I don't know what this means either). And for the record, I have not included the standards you need to consider about timber durability and termite management for external timber stairs. Or what glass to use if glass balustrades are specified. Or the relevant standard if steel is specified outdoors.
So, would you prefer to read three pages or wallow through more than 203?
Stairway to understanding
The steps to design and build a compliant stair should be simple. Every stair built must obey the following rules (as outlined in Table 2 on the next page) or utilise a substantially similar solution. I have added a column of what I recommend because these missing items are advised in other guidelines and therefore will eventually be required.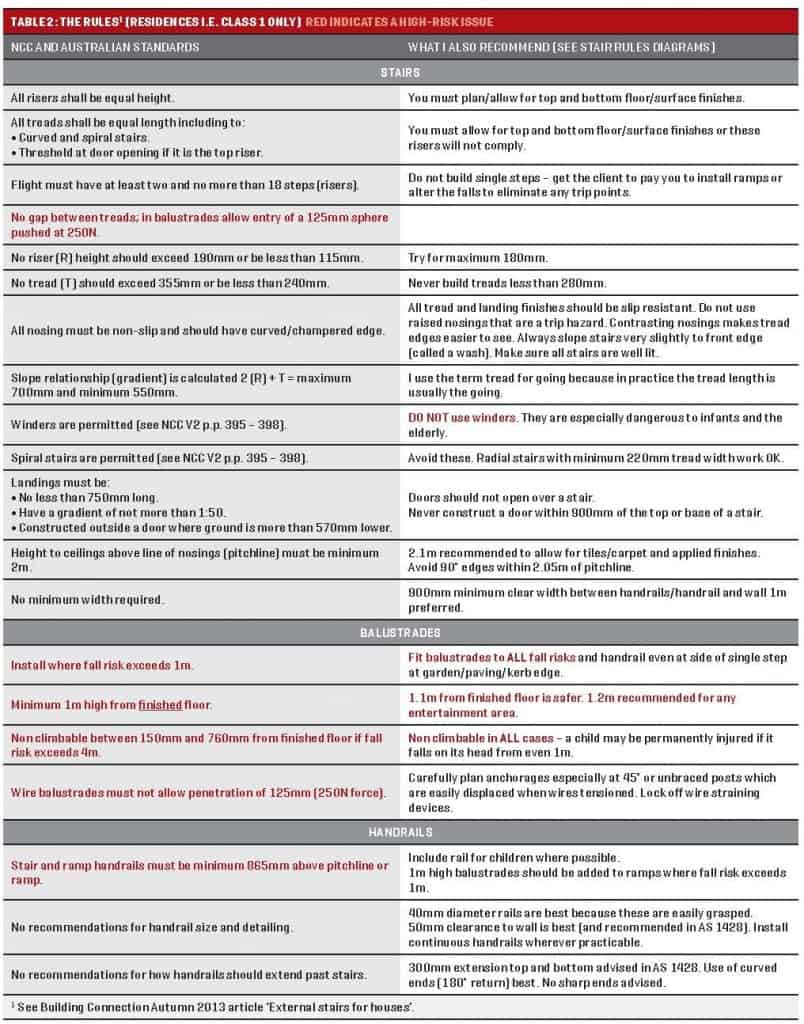 I have not added lots of the practical 'rules' that apply to all good work such as arrissing timbers, sealing all timber surfaces (before assembly of the stair), supporting bottom of stringers clear of dampness, extending tread edges over risers, tie rods securing the stringers, etc.
Finally, if you're working on a non-residential job, the only extra thing you need to consider is to make sure the unobstructed stair width is a minimum 1m or is correctly sized for a large number of occupants (the NCC calls this 'number of persons').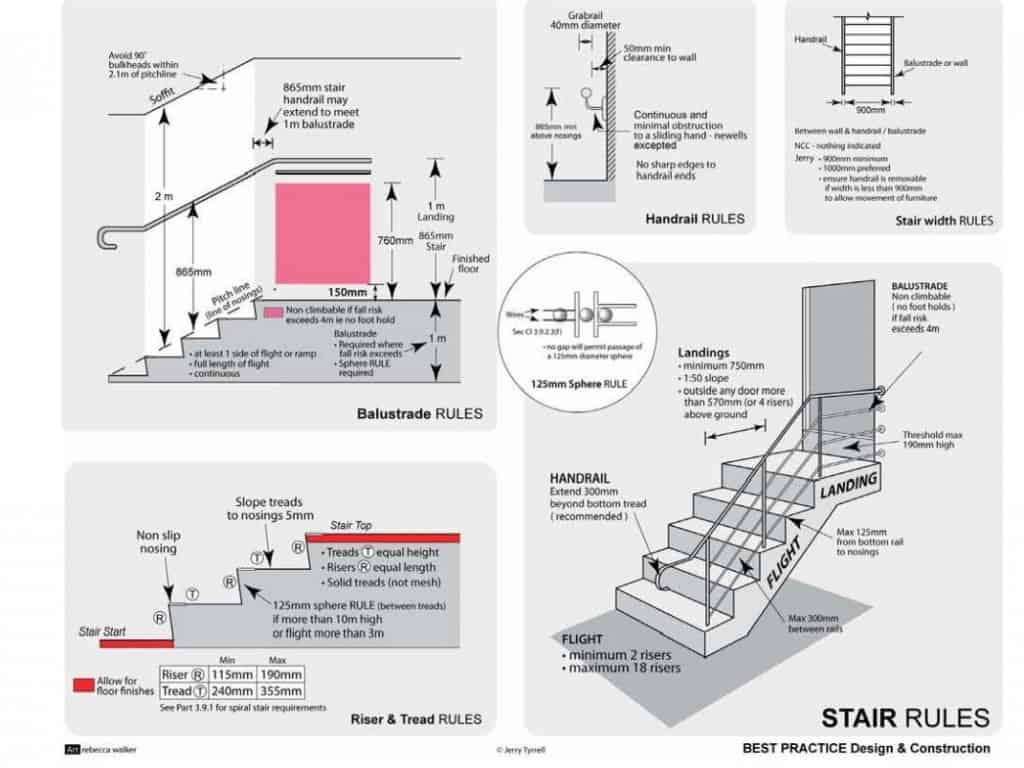 Step 1: Refer to Table 2 – The Rules (Residences i.e. Class 1 only).
Step 2: Select appropriate methods/materials for the exposure and risk. In my opinion, all products should last 50 years subject to proper maintenance (the ABCB agrees in its Durability in Buildings publication, which means no non-durable timber or mild steel externally).
Step 3: Set out everything in accordance with the Rules. Give special attention to any existing factors and allowances for future floor finishes, which might make the top and bottom risers non-compliant.
Step 4: Quality assure all high-risk issues. This can cause injury or death, i.e. handrail height, non climbability, slip resistance, tensioning of wires which might pull an unbraced post over, or the thrust of the top of the long flight against an unbraced top floor platform etc.
Missing steps in the ABCB solution
The ABCB makes it difficult to check what complies. There are also some missing bits or, put simply, omissions that are 'hidden' or poorly integrated from the different documents. I have pointed out that the guidelines for handrail detailing contained in AS 1428.1 should apply to all handrails. All handrails should be considered 'grabrails'. One metre should be the minimum width of any stair.The term 'slope relationship' should be changed to gradient (of the pitchline) expressed as a percentage or proportion, e.g. 30%.
Further, the NCC is inconsistent about fall risk – it allows a child to fall 1m off a landing or through an open balustrade, or climb a climbable balustrade and fall 4m. The ABCB needs to limit risk and remove unnecessary rework and future maintenance. They have all the ingredients. They just need to bring them together.
I reckon the ABCB knows what is possible. Most of their documents could be condensed to as little as 2% of their current size. This simplification is very much in line with the stated performance objectives of the NCC. It is much less to administer, revise and update. It might even stimulate the creation of a free online publication and greater compliance achieved by the people the NCC intends to serve – YOU! Take the next step, ABCB.